←
→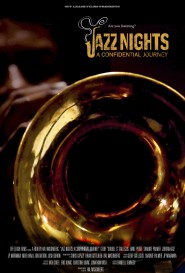 JAZZ NIGHTS: A CONFIDENTIAL JOURNEY
The documentary JAZZ NIGHTS: A CONFIDENTIAL JOURNEY chronicles a fleeting and almost completely unknown moment in time involving a group of L.A.'s top jazz musicians who brought jazz history full circle by forging a modern-day version of the forbidden speakeasy culture that jazz itself grew out of. For 2 years, these premiere musicians congregated on Sunday nights at an illicit, back-room hash bar in the heart of Hollywood.
Once a week, these expert musicians formed a circle, a coterie of non-verbal, intuitive communication. There were no pre-determined set lists, no rehearsals. Attendance was through word-of-mouth only. No advertising.
The result was an all-out exploration — both personal and communal — of what it means to be an artist and to passionately follow one's heart. JAZZ NIGHTS documents not only the music itself, which is simultaneously exhilarating, meditative, hypnotic and revealing, but also the personal journeys of each individual involved, their fears and desires, their struggles, triumphs and influences.
At its heart, JAZZ NIGHTS explores the emotive and mercurial backstory of jazz itself, its origins and relevance to both society and to the individual musicians who each have their own personal connection to this deep history of which they are now a living part.
Like the speakeasies of old, JAZZ NIGHTS reflects a society once again caught in a quagmire of differing opinions and laws, this time surrounding the legalization of marijuana, which is currently considered medically legal in the state of California, while simultaneously remaining illegal under federal law.
The coming together of these contemporary and historic upheavals alongside such distinct musical voices, provided an unexpected opportunity for these musicians to tap into the vast background that had brought them together in this place, and to explore the many life-lessons hidden within that experience.
In a time when the music industry and how music is delivered and consumed by audiences is changing rapidly, with music programs being eliminated from the curriculum at schools across the country, with age-old state and federal laws changing and being discussed in myriad ways barely imagined before, as the civil rights struggles in our country continue to take center stage, JAZZ NIGHTS shines a light on an ethnically diverse group of individuals who have come together to discover both themselves and one another, their similarities and differences and how to use those to create something immensely human and life-affirming. JAZZ NIGHTS cast simultaneously ride the coattails of the past while paving new inroads for the future.
For up-to-the-minute production news on JAZZ NIGHTS: A CONFIDENTIAL JOURNEY, to find out more about the film, to watch the trailer, or to contribute, please visit our Official Web Site. You can also go to our Official Facebook Page.Our initial Indiegogo fundraising campaign was a monumental success! But we still need to raise more money for the very expensive music rights (18 jazz standards) as well as vintage photo and clip rights. We have recently received fiscal sponsorship from the International Documentary Association (IDA), a 501(c)(3) nonprofit organization. This means that all contributions on behalf of JAZZ NIGHTS: A CONFIDENTIAL JOURNEY are payable to IDA and are tax deductible! Make a donation HERE. We also offer corporate sponsorship opportunities. Email us at info@jazznightsfilm.com.